Magician, Jadugar, Illusionist, The Performer, World Record Holder, The Path Breaker, The Vetran or The Magus you can address him in many ways, but he outweighs every expression. Born in Jabalpur (Madhya Pradesh), on 3rd of January, 1952, Anand Awasthy AKA Jadugar Anand turned into a prodigy at very young age.
He set new bench marks for others to follow, born in a small central Indian town and to reach the great heights of success it must have required him to be a genius and he was and still he is. Anand is Undisputed Legend and Leader of Magic World.
Anand has overcome every obstacle in his way and continued on the path of great success and his journey continues. He had no God Father and has learned the great Art all by himself with great dedication, discipline and hard work.
Jadugar Anand is a Veteran in the field of Magic as Performing Arts, but he started developing magical skills at a very tender age of 7. It's a magic in itself that at such young age Anand showed what a prodigy he is and started creating magical acts of his own.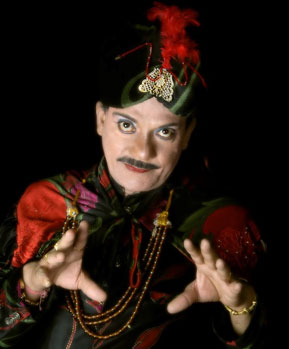 Anand has created a special place in the history of performing arts, in the year 1978 at Hollywood, where he bettered the best of the World's best magicians and was awarded The Gold Medal, in the year 1980 at Brussels; he repeated the feat and was titled "The Grand Prix". and he stamped over all the stiffest competition from the best magicians of 150 countries globally, at Montreal in the year 1982 to be awarded "Magi of the East".
Anand was very close to Bhagwan Shri Rajneesh Osho, who in Oregon USA once said that Anand is "Miraculously Spiritual Soul" bound to enlighten Earth.
Magician Anand has performed over 29000 Shows across the globe and it is a World Record in itself. No other performer has done so many shows in life time. Anand has done shows in America, Europe, Africa, Asia and Asia Oceanic. He is one the most traveled performing artist in the history of humanity..