At the age of 19, he broke the World Record for UNDERWATER ESCAPE when he escaped from a box in which he was sealed and thrown in the river Narmada at Jabalpur!
At the age of 22, he rode a 250cc motorcycle BLINDFOLDED, from Indore to Bhopal, a distance of 200 kilometers in just under 180 minutes, creating another World Record in the process!
International Brotherhood of Magicians (Gold Meda) (1976)
Magic of the cast by World Organisation of Magician
Anand's talents and achievements were duly recognized in all the advanced countries of the world. He has performed more than 36000 shows in more than 36 countries of the Americas, Europe, Asia, Australia and Africa which itself is a World Record for maximum number of shows performed by any magician ever! This man, Anand, is Indian Magic personified in the eyes of the World.
National President of All India Magic Federation, Anand is seen by the fraternity as the last hope for the dying art of magic.
Other Achievements
Magician Lifetime Achievement Award
Awarded By : Indian Magic Awards 2020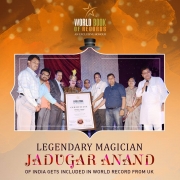 World Record For Having Maximum Magic Shows (36000) In 36 Countries Across The World.
Awarded By : World Book Of Records, London
Vishwa Jadu Shiromani Alankaran Patra (Bhopal)
Awarded By : Alankaran Patra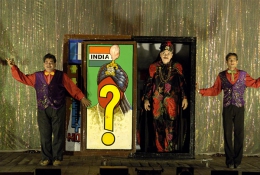 Kadambani Kala Alankaran Samman (Bhopal)
Awarded By : Kala Alankaran Samman
National President of All India Magic Federation (Last 17 Years)
Awarded By : All India Magic Federation